The Meadoweld heavy-duty straight Grinder Guard is designed as a replacement guard for an electric 6- to 8-inch straight grinder. Used for grinding field welds, frogs, switch points, rail profiling, etc. The all-welded design of 1/8" steel, with a rigid handle and positive clamping ring, allows for safe operation and long life of the guard itself.
This quick action rail clamp is designed to mount on the side frame of track equipment. All steel construction, it is a heavy-duty clamping device that will quickly adjust to any size rail by turning the clamp handle. The over center clamping mechanism clamps the ball of the rail. The assembly comes with mounting hardware (easily welded to side frame of machine) including locking pin to swing the clamp up and pin in position for travel and replaceable jaw pads. The RS-400 Rail Clamp may be used in a variety of applications, when positive, ridged clamping force is necessary, including: rail sawing, rail drilling, rail grinding, and may also be used as a safety brake or parking brake to anchor track machinery to the rail that it is parked on. Meadoweld Inc.
RS-400
Wheel, Axle & Parking Brake Kit
Meadoweld Inc. wheel/axle assemblies are ideal for a wide variety of Maintenance of Way equipment. Simply weld the furnished mounting blocks to your frame, install the axle kit (hardware included), and you're rolling down the track.
Features include: 7,000 lb. per axle capacity, 14 inch steel wheels, solid steel machined hubs, type E pillow block roller bearings, heavy-duty axle. The optional Parking Brake Assembly features a mechanically actuated heavy-duty caliper-disk combination for positive braking action. The parking brake operating lever can be conveniently mounted on a handrail, frame, etc. above the brake mechanism. Meadoweld Inc.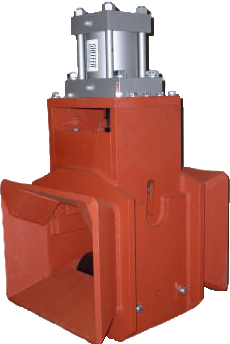 HTB-250 Hydraulic Rail Threader Box
Extreme duty rail threader box designed to mount on rail train pickup or unloading equipment. This bi-directional threader box can be universally mounted in a telescoping, tilting, elevating or stationary position for loading or unloading of continuous welded or continuous jointed rail of any size. Features include: Heat-treated base and top flanged rollers with heavy-duty bearings. Top flanged roller block can be quickly adjusted up or down to accommodate any rail size using the massive hydraulic cylinder (supplied) when connected to a hydraulic circuit. The bi-directional rail funnel allows loading from either direction.
HTB-250
The Meadoweld Model AST-100 "Anchor Spanker" is an extremely heavy-duty rail threader box used on continuous welded or continuous jointed rail. When suspended from a boom, it performs two operations simultaneously. It threads the rail to the track shoulder and removes rail anchors to the track center.
The AST-100 works in either direction and also, hinges open for rail insertion. Its' 19 permanently lubricated, heavy duty rollers are adjustable for height and width to accommodate any size rail in both directions. With its' 1,600-pound mass and heavy-duty precision machined weldment type construction, the "Anchor Spanker" provides safe, smooth and efficient rail anchor removal with a minimum amount of maintenance.
Height - 24 inches
Length - 50 inches
Width - 36 inches
Weight - 1,575 lbs